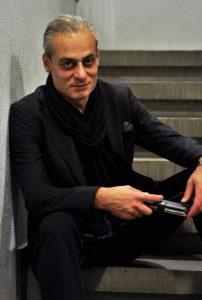 A rmenian violinist and producer Khachatur Almazian is a founder ( together with Serbian cellist Tamara Savic ) of ALMAZIAN SYMPHONY , an all female orchestra .
Signed to SONY MUSIC ENTERTAINMENT in 2013, Almazian Symphony released their first album in partnership with France Televisions ( French National TV Network ) .
In 2018 Khachatur Almazian & Almazian Symphony together with world ballet superstar SERGEI POLUNIN did the opening of EXIT FESTIVAL ( officially proclaimed the Best Major European Festival ) , reaching a record 44.000 people in the audience .
Founded in 2007 Almazian Symphony did the opening of Emir Kusturica's historical First Kustendorf Film & Music Festival in 2008 , UNESCO performance in Paris , Russian debut at Moscow's Barvikha Concert Hall , the opening and closing acts of Brussels Film , Rhythm of Europe , Skopje Summer , Sea Dance , Ohrid Summer festivals , Exit Festival ( 2008 , 2015 , 2018 ) , as well as performances in Dubai , Hong-Kong , Singapore , Athens , Amsterdam , Yerevan , Antwerp etc .
Khachatur Almazian and Almazian Symphony have recorded all soundtracks for EMIR KUSTURICA's latest film ON THE MILKY ROAD ( music by Stribor Kusturica ) .
In the same movie Khachatur had an acting role with MONICA BELLUCCI .
Born in Armenia into an artistic family , Khachatur Almazian studied in Yerevan under Petros Haykazian at Tchaikovsky Special Music School and under Villy Mokatsian at Yerevan State Conservatory .
Later he studied at Brussels Royal Conservatory under Igor Oistrakh , in New-York under Misha Keylin and in Paris under Eduard Wulfson .
In 1997 he won the First Prize at Belgian Radio and TV Competition .
As a soloist he performed and recorded for Radio and TV with the orchestras such as Shanghai Symphony , Ontario Philharmonic , National Orchestra of Belgium , Belgian Radio Philharmonic , Armenian National Philharmonic Orchestra , Charlemagne Orchestra , I Fiamminghi , Orchestre Royal de Chambre de Wallonie , Moravian Philharmonic , Virtousi di Praga , Royal Scottish Symphony , Northern Mexico Philharmonic , Vojvodina Symphony , Philharmonie der Nationen , Geneva Soloists , Dubrovnik Symphony ,Virtuosi di Armenia , National Chamber Orchestra of Armenia working with conductors including Gilbert Varga , Justus Frantz , Marco Parisotto , Saulius Sondeckis ,Constantine Orbelian , Rudolph Werthen , Eduard Topchjan , Frank Shipway , Bartholomeus -Henri Van de Velde and others .
Almazian performs aside musicians such as Kolja Blacher , Polina Leschenko , Walter Nothas , Narek Hakhnazaryan , Alexander Buzlov , Christaan Bor , France Springuel , Valery Oistrakh , Oleg Polyansky , Alexander Markovich and many others .
He participated at festivals such as Schleswig-Holstein , Rheingau , Festival Van Vlaanders , Les Musicales de Beloeil , Ost-West-Musicfest , Finca , festivals in Lyon , Malta , Menton .
He plays the 1774 Giuseppe Gagliano violin from Ara Simonian private collection and the 1886 Gand & Bernardel lent by Garnier family .
Almazian has recorded two albums for Sonoris label ( USA ) .
In 2019 at Kustendorf Classic festival Almazian , together with world-renowned cellist Narek Hakhnazaryan performed the world premiere of GIOVANNI SOLLIMA's " Tarantulae Cadenzas " for violin , cello and orchestra .
As a producer Khachatur Almazian is busy in different projects , such as organizing art festivals , working on artificial intelligence assisted music compositions etc . He produced and organized twice the visits and concerts of Emir Kusturica & The No Smoking Orchestra in Armenia .