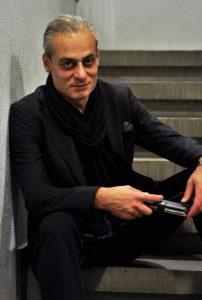 Armenian violinist and producer, Khachatur Almazian, is the Artistic Director, Leader and Soloist of the popular and versatile "Almazian Symphony" — an all female orchestra constituted of highly talented musicians that he founded, along with Serbian cellist Tamara Savic, in 2007.
Signed to Sony Music Entertainment in 2013, Almazian Symphony and its eponymous leader released their first album in partnership with France Télévision, the French national TV network.
In its first year of operation, Almazian Symphony was invited to open the "1rst Kustendorf Film & Music Festival" by renowned film director Emir Kusturica. Upon a series of very successful performances, the group received further invitations to perform at the UNESCO in Paris, Moscow's Barvikha Concert Hall (for its Russian debut), the opening and closing acts of the Brussels Film Festival, as well as the festivals Rhythm of Europe, Skopje Summer, Sea Dance and Ohrid Summer Festival. A highlight of their road to triumph has been their impressive three-fold invitations to the Exit Festival (officially proclaimed the "Best Major European Music Festival") in 2008, 2015 and 2018. Their recognition as an exciting, entertaining and outstanding ensemble has brought them to various parts of the world including performances in major cities and venues such as Dubai, Hong-Kong, Singapore, Athens, Amsterdam, Yerevan, Antwerp, Belgrade, and so forth.
Khachatur Almazian & the Almazian Symphony, in conjunction with international ballet star Sergei Polunin, were the special guests opening the 2018 edition of the Exit Festival, having reached that year a record 44.000 people in attendance, thereby contributing significantly to the history of this much-anticipated annual event's history.
Khachatur Almazian and the Almazian Symphony have recorded all the soundtracks for Emir Kusturica's latest big screen movie "On The Milky Road", with music composed by Stribor Kusturica. In this film, Khachatur was given a role as an actor, sharing a scene with renowned Italian actress Monica Bellucci.
Born in Armenia into an artistic family, Khachatur Almazian studied in Yerevan under Petros Haykazian at the Tchaikovsky Special Music School and under Villy Mokatsian at Yerevan State Conservatory. Later, he studied at the Brussels Royal Conservatory under Igor Oistrakh, in New York under Misha Keylin and in Paris under Eduard Wulfson. In 1997, he was the winner of the First Prize at the Belgian Radio and TV Music Competition.
As a soloist, Khachatur has performed, including recordings for radio and television broadcasts, with orchestras such as the Shanghai Symphony in China, National Orchestra of Belgium, Belgian Radio Philharmonic, Armenian National Philharmonic Orchestra, Ontario Philharmonic in Canada, Charlemagne Orchestra, I Fiamminghi, Orchestre Royal de Chambre de Wallonie, Moravian Philharmonic in the Czech Republic, Virtuosi di Praga, Royal Scottish Symphony, State Philharmonic of Chihuahua in Mexico, Vojvodina Symphony in Serbia, Philharmonie der Nationen in Germany, Geneva Soloists, Dubrovnik Symphony, Virtuosi di Armenia, National Chamber Orchestra of Armenia. He has worked with conductors including Gilbert Varga, Justus Frantz, Marco Parisotto, Saulius Sondeckis, Constantine Orbelian, Rudolph Werthen, Eduard Topchjan, Frank Shipway, Bartholomeus-Henri Van de Velde, among others. Almazian performs alongside musicians such as Kolja Blacher, Polina Leschenko, Walter Nothas, Narek Hakhnazaryan, Alexander Buzlov, Christaan Bor, France Springuel, Valery Oistrakh, Oleg Polyansky, Alexander Markovich and many others.
As a violin soloist and chamber musician, he has participated at major music festivals such as the Schleswig-Holstein, Rheingau, Festival Van Vlaanders, Les Musicales de Beloeil, Ost-West-Musikfest, Finca, as well as festivals in Lyon, Malta and Menton.
In 2019, at Kustendorf Classic Festival in Serbia, Khachatur Almazian performed the world premiere of Giovanni Sollima's "Tarantulae Cadenzas" for violin, cello and orchestra together with his celebrated cousin, cellist Narek Hakhnazaryan.
In addition to his career as a violin soloist, Khachatur Almazian is in demand in the field of performance production and the organizing of music festivals. In this capacity, he has twice organized and produced the performance tours of Emir Kusturica & The No Smoking Orchestra in Armenia. His multi-faceted talents have also involved him as a consultant to composers in providing assistance on artificial intelligence-assisted music compositions using today's latest technology.
Khachatur Almazian has recorded two albums for the American label Sonoris. He performs alternating regularly between two instruments: the 1774 Giuseppe Gagliano violin on loan from the Ara Simonian Private Collection and the 1886 Gand & Bernardel lent by the Garnier Family.
*** Copyright 2020. Important: Please do not alter without permission. ***